Main data of the Group
| | |
| --- | --- |
| Owner and Managing Director | Tibor Kopasz |
| Headquarter | Mórahalom |
| Group consists | 7 companies |
| Group activities | retar, manufacturing, distribution |
| Territory | Hungary |
| Number of dedicated growers | 3 000 |
| Number of employees | 30 |
| Annual turnover on Group level | 8.6m EUR |
| Established | 2010 |
Financial result of 2020
Company
Established / Aquired
Contribution to Input Group (turnover in Ths EUR) in FY2020
in %
Retail
Móra-Input Ltd.
2010
5 000
58%
Maros Farmer Ltd.
2006 / 2015
2 600
30%
M-Input Ltd.
2012
700
8%
Manufacturing
M-Inpex Ltd.
2019
50
1%
Biokál International Ltd.
1993 / 2020
50
1%
Support
M-Aqua Ltd.
2020
100
1%
M-Gold Ltd.
2020
100
1%
Introduction
INPUT Csoport (also as INPUT Group) is a group of companies established by Tibor Kopasz (owner and managing director) with a headquarter at Mórahalom. The group has 10 years past on the horticultural market with 8.6 m EUR turnover1 annually and 30 employees. INPUT Group serves growers from the entire territory but mainly from Southern part of Hungary with professional consultancy, quality products, technical solutions.
The Group consists of 7 companies presented on the chart below. The first 3 companies – Móra-Input Ltd., Maros Farmer Ltd. and M-Input Ltd. – are retailer companies. 2 companies as Biokál International Ltd. and M-Inpex Ltd are manufacturing companies. M-Gold Ltd. and M-Aqua Ltd. provide supporting services to the previously mentioned manufacturing companies in form of distribution and construction activities.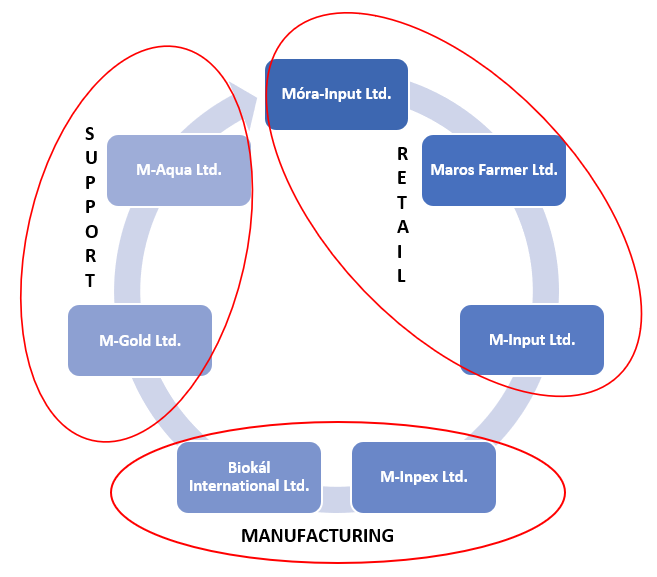 The Group
1. Móra-Input Ltd.
It is established in 2010 with the aim of providing professional and qualified services to horticultural growers at the Southern part of the country. Móra-Input Ltd. generates the biggest turnover in the Group with approximately 5 m EUR as per FY 2020.
At the beginning, the firm only had sales activity for pesticides, fertilizers, seeds and peat. Although, it was clearly visible for the owner that grower's needs are not satisfied by the market and has business potentials. Based on the realized needs, a huge effort has been taken in order to build a network for growers and customers - at the beginning for South of Hungary -, by now for the entire country.
Recently, the company has 3 000 members merged into a network and it is handled as fleet services (including professional advisory services available in 24 hours, discounted phone services, regular professional events, or plant visits etc.). Our professional consultants are highly educted with many years of work experience, they are also involved in work close together with the members on field and provide plant protection advisory services always. The company continuosly ensures that growers are trained, educated, informed about the news (market characteristics, technological developments, legal requirements, products). There are organized professional evenings with hundreds of interested visitors where seeds are promoted in each year. Once a year, approximately 30-40 growers also have opportunity to visit plants at abroad due to our organized trips with trusted business partners.
In the past 11 years the company was not committed to a selected manufacturer, therefore more business partnerships were available to support the business strategy. The company is ready to step into an exclusive partnership with a dedicated manufacturer for potato seeds and be committed for this business partner only, also terminate the partnership with other manufacturers. The Group has growers with needs of ~2 500 – 3 000 tons potato seeds for Hungary per year.
2. Maros Farmer Ltd.
The second biggest company in the Group with annual turnover of 2,6 m EUR as per FY 2020. It was established in 2006 and added to the Group by aquisiton in 2015.
The original activity of this entity was the same as Móra-Input Ltd.'s although for limited product range due to special production terms at the close location. The Móra-Input Ltd.'s services and structure are implemented with a full product scope by now.
Since 2015, Móra-Input Ltd. carried out a massive portfolio extension and professional upgrade at Maros-Farmer Ltd. Therefore, it has 4 500 customers (also fleet members of the Group) annually. Due to the fact that the area had only arable farming style, the company realized the lack of professinal support and made relevant steps to promote garden crop production successfully.
As a result, the members started to grow for example parsley or onion and requires strong support to improve this field.
3. M-Input Ltd.
M-Input Ltd. is a retail sale focused company with more than 6 000 agricultural industrial articles needed to any type of growing activity for farmers. It is the third biggest company in terms of turnover with approximately 0,7 m EUR for FY 2020.
Customers can find at stock for example: foils, bags, best in class safety equipments, irrigations equipments, different garden tools, wide range of gardening and forestry machineries, quality pumps of all size and strengths or power tools as per customer need.
4. M-Inpex Ltd.
Since 2019, it is one of the manufacturing company in the Group with 50 Ths EUR turnover for FY 2020. It deals with manufacturing of agricultural machineries under an Group owned brand called IMPEXSYSTEM.
The engineers and professionals build assembly and machine storage halls, execute complete construction of cold stores, making container tilters or conveyors for customers also for unique orders.
5. M-Gold Ltd.
M-Gold Ltd. was established in 2020 for design and construction activities of agricultural needs mainly to M-Inpex Ltd. and Group also for external parties. The company prepares and implement tender projects as well for external partners. It generated 100 Ths EUR turnover for the first year in FY 2020.
6. Biokál International Ltd.
Biokál is a biological pesticide first created in 1993 by a Hungarian inventor László Kálmán. He was dedicated to human medicine és biological crop protection. As at that time the menthality was closed, his way of thinking, especially the high cost of the product was hardly acceptable for people and the Biokál was definitely job-goods.
Nowadays, the natural solutions are more and more popular that helps this almost 30 years old invention to be more visible and available on the market. The inventor's family always was in a good business relationship with the owner of Input Group.
In 2020, the Group decided to merge Biokál International Ltd. by aquisition in 2020 into the Group. Since the cooperation started, the Biokál went through on a strong development, and by now a complete product line helps the growers to protect their plants.
Upwarding results are recognized during the cooperation, although the turnover for the first year is 50 Ths EUR. The Group expects and predict great future for this manufacturing activity and planning to extend the sales capacity. The product line is highly innovative, ensures combined effects of conditioning, insect alarm and fungal inhabitor.
7. M-Aqua Ltd.
Committed member of Group in field of biological crop protection also the exlusive distributor of Biokál product line. The company was established a year ago and successfully achieved approximately 100 Ths EUR turnover. M-Aqua Ltd. seeks new potential customers, promotes biological pesticides continuously as the Group members face with challenging requirements by the market due to the expected chemical-free production.